Regional School of Tourism in Polanica Zdroj is 4-year secondary, technical , state school which annually gives education to about 400 students in wide range of tourist industry as well as hotel and catering. The knowledge and abilities gained here help to work in tourist industry and prepare to start an own business in this area.
We do our best to make every student a professional.
We cooperate with our region in order to integrate our students with the local environment as well as with foreign countries in Europe such as England, Greece, France, Germany, Italy, Iceland, Switzerland, Cyprus providing vocational training there in order to improve the students' English level. The school tries to respond to the needs of region and EU standards.
________________________________________
More about us
The south-west part of Poland, where the Regional School of Tourism is located, is quite essential for Polish tourist industry. Our aim is to identify our students with local environment, encourage them to make positive changes and create new traditions. The RST was founded 16 years ago as a result of the needs of our region.
Regional School of Tourism is situated in Polanica Zdroj, in south-western part of Poland about 100 km away to the airport in Wroclaw and 170 km to the airport in Prague and it occupies a part of a new, modern and spacious building. The 2-floor school building consists many classrooms used for general and professional education, computer studios, office work studio, tourist geography studio, client and consumer studio, library, canteen, didactic kitchen. We plan to set up a youth hostel which could serve us as a didactic hotel with reception and tourist information.
The aims of general and professional education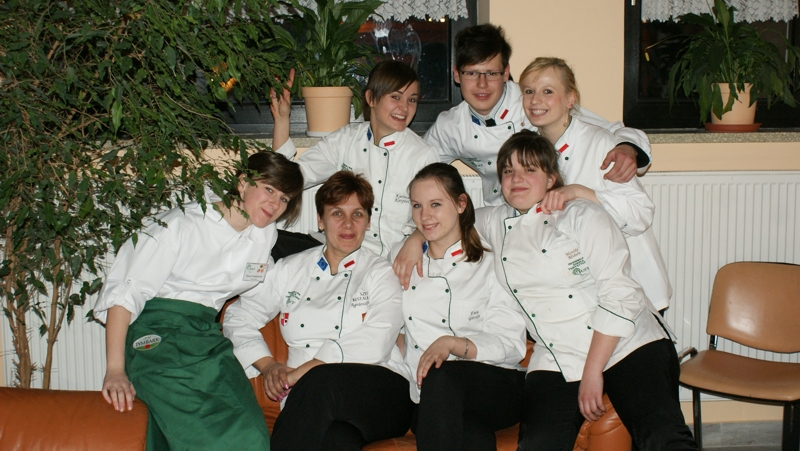 Our graduates are well prepared to continue their education at university or college. We try to keep a correlation between general and professional education. While teaching general subjects we try to stress the knowledge and abilities which may be helpful in tourist industry. It especially concerns such subjects as: ICT, foreign languages Polish lessons stress the ability of making a polite conversation, expressing your own opinions without offending others, writing advertising and promoting texts. Teaching foreign languages stresses ability of making a conversation in situations which are typical for tourist industry. We provide a lot of opportunities for our students to gain experience and practice what they are taught. A didactic process emphasizes practical skills and knowledge. We run our workshop in a school canteen and a modern kitchen, didactic receptions, hotel's room, travel office etc. In the future it will be also possible to use our small hotel in this way. First students develop their skills in a school environment then they can practice them outside.
________________________________________
Our history and present time
The Regional School of Tourism was founded on the 1st October 1995 to give professionals to the tourist industry all over the region. Tourism has become the most dynamic branch of industry in our country. We have many good conditions for development of tourism such as:
various touristic attractions
environmental friendly area without any industry
but there are also some destructive factors like:
lack of proper skills in English language presented by staff employed in tourist industry
poor usage of computer technologies in workplaces in the area
lack of promotion
lack of proper staff qualification
The Regional School of Tourism desires to act against these factors through:
preparing for work in tourist industry by giving proper education, on the European level
preparing potential manufacturers for tourist industry
making the quality of service higher
giving possibility to students to continue their education on the university level
training abroad in carefully selected hotels and restaurants
Vocational training policy:
Industry training is an integral part of the study program at our school. During the second year the school provides lasted two weeks or a month non-paid work experience in carefully chosen regional and Polish hospitality venues. Successful students may assume more responsibility in their third school year, for whom our school provides paid work training on Unity Line Ferry and hotels abroad. We have been already cooperating with the following countries: England, Italy, Holland, Greece, Germany, France, Iceland, Cyprus.
To be accepted for trainings abroad students are expected to meet the requirements of the school, which are personal attitude points, classroom attendance, a minimum grade point average and quite good language skills. Most of the students meet these criteria.