AN AMAZING JOURNEY within eTwinning platform
WITH SCHOOLS FROM:
SPAIN, TURKEY, ITALY, UKRAINE, GEORGIA, the CZECH REPUBLIC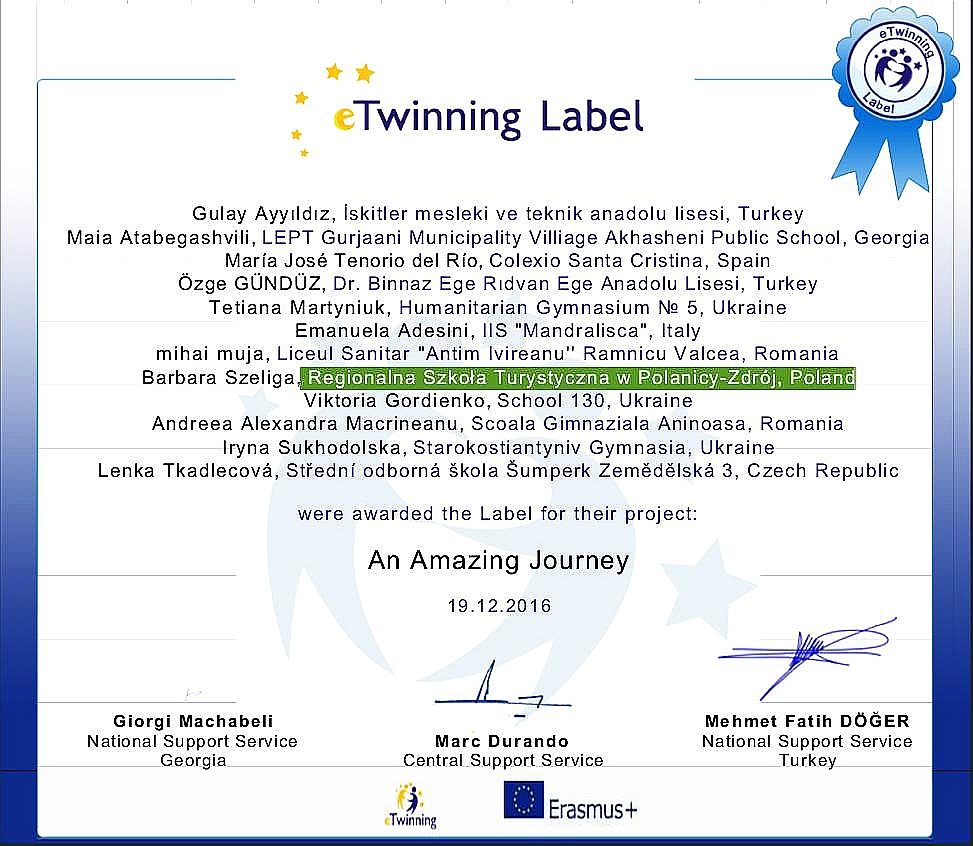 WHAT IS THE PROJECT ABOUT?
Students will find out historical facts, geographical location and nature, interesting places, famous artists and traditional cuisine(they will make some traditional dishes) of their countries. They will also make videos and slides, presentations.
Aims to gain
Information-retrieval skills developing, information sorting skills developing, presentation skills training, interviewing skills developing, proper using of the Internet and technologies, developing of cooperative skills. Get to know interesting facts about own and other countries, making similarities and differences between the cultures.
Expected results
The students will develop the following skills: finding out information, interviewing, making presentations, using technologies. They will learn teamwork, co-working and become more sociable. They can compare their culture with others, make similarities and differences. They will learn how to organize a tour, how to make videos or slides. They will learn how to make projects with helping information technology.
Work process
February:
Introducing, greeting the participating schools. (Submission of school can be implemented in any form – video, presentation of school and students photos, maps, Skype or other.)
The logo design. (The students will work on the creation of logo, which would be a symbol of friendship between countries, the best will become the main logo.)
March:
Introducing countries with their geographical location and peculiarity, attractions.
Find out and share interesting or important facts from history of their countries.
May:
Introducing attractive and historical places. Arranging trips and making videos or presentations.
October:
About Art (painting, theater, cinema, music, etc.)
November:
"Well-known people of my country.''
December:
"

Traditional cuisine of my country.'' (Share some recipes of traditional dishes.)
"New year traditions in my country.''
February:
Making e-book about countries with materials of project.
---